The Like Jesus App
DISCIPLEMAKING METRICS

GROUP COMMUNICATION

CHAPTER VIDEOS

ASSESSMENT TOOLS

FULL eBOOKS

CHURCH DASHBOARDS

PRAYER MODULE

SERMON NOTES

LEADER VIDEOS

MANAGEMENT PORTAL
A digital tool to help you create a culture of disciple-making in your church, ministry or small group. Onboard your whole church with videos, eBooks, and assessment in an instant.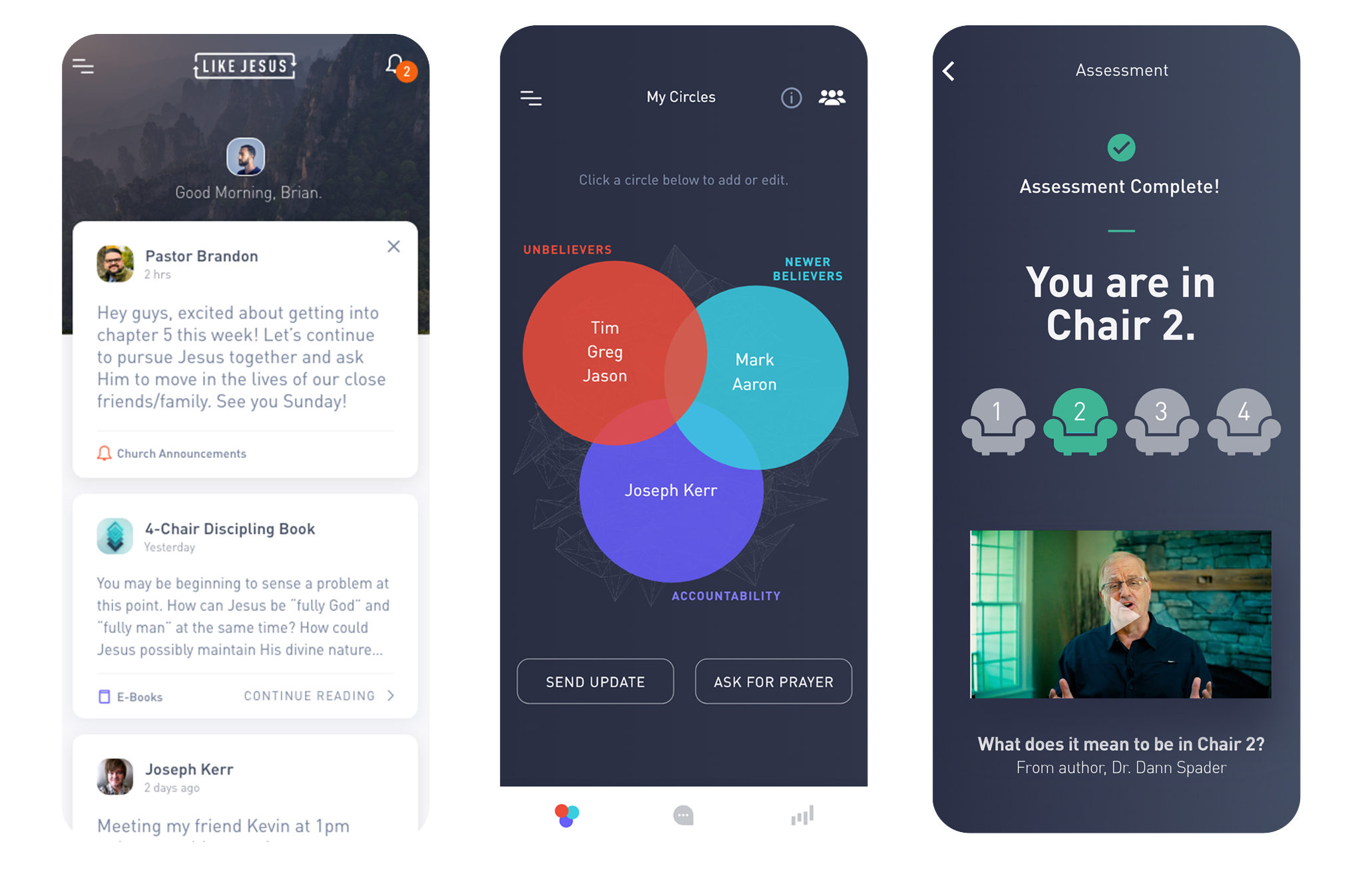 VIDEOS + E-BOOKS
Full interactive eBook content of every book and videos for each chapter of every module.
4 full eBooks including Leader Manual
Type/save responses to questions in each eBook
Videos for each chapter, many filmed in Israel
Small group guides and resources
Save progress, highlight, and more

CIRCLES
The circles module was created for you to add people to your prayer circle and to send prayer updates/requests to members of your group.
Enter new believers and unbelievers to pray for
Set prayer reminders daily/weekly
Request prayer from your group
Create a culture of prayer for the lost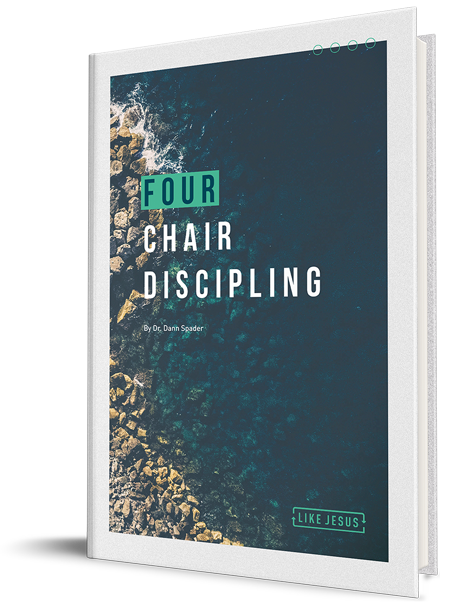 Get Our FREE E-Book
Learn more about the 4-chair Disciplemaking process in our free e-book, written by Dr. Dann Spader.
Get it Now

GROUPS
Stay connected with those in your small group and hold one another accountable.
Message various groups
Share stories and prayer requests
Encourage one another
See Group metrics/dashboard

4-CHAIR ASSESSMENT
Assess which chair you are currently in and see church-wide metric data.
The 4 Chair Assessment, individual + group results
Be encouraged and see next steps
See dashboards and scores
Re-assess at anytime to track growth
Digital Management Portal
Manage the app and get real-time metrics, resources and tools to help build a culture of disciple-making.
Full E-books and Videos filmed in Israel

App Setup & User Management

Sermon Notes, Slides, Graphics, Banners, Downloads

Assessment and Real-Time Metrics (4-Chair Report)

HDTV Live Dashboards

Send Push Notifications to app users

50% discount on all Like Jesus materials (with Digital Access)

Much, much, more… (Try it out for 30-days free)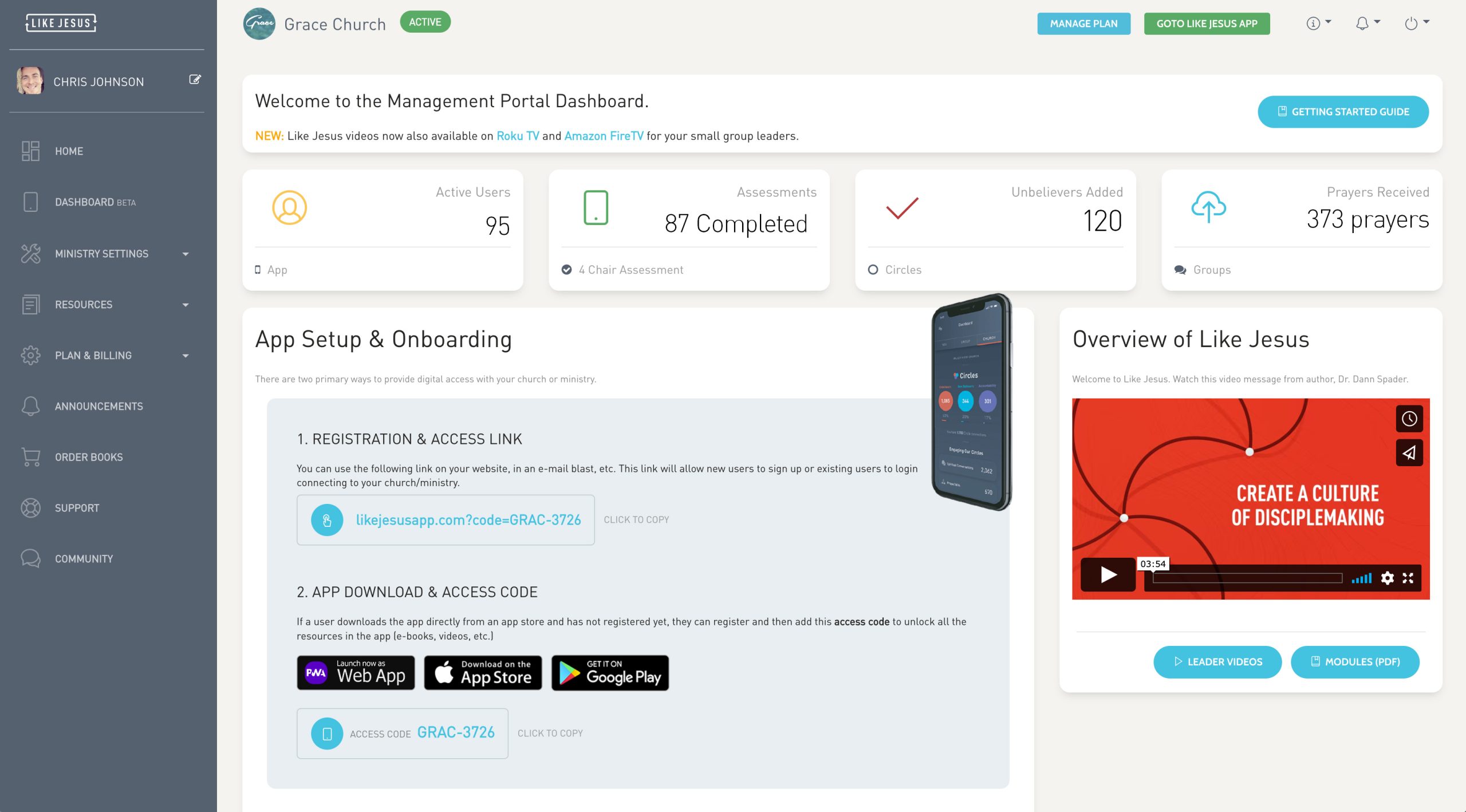 Digital Access Pricing
Digital Access unlocks full e-books, videos, metrics, and messaging in the app. Leader downloads, 50% off discounts on printed books, and more.

Pricing is month-to-month and based on number of users.

3 Full E-books
30+ Videos (Many in Israel)
Study the Life of Christ
Small Group Guides
Prayer Reminders
50% Off Books/Materials
3 E-books & Videos
Real-Time Metrics & Messaging
Sermon Notes, Slides, Graphics
Small Group Guides
Live HD Dashboards
50% Off Books/Materials
4 E-books & All Videos
Leader Videos & Leader Manual
Real-Time Metrics
Sermon Notes, Slides, Graphics
Live HD Dashboards
50% Off Books/Materials
See full pricing list for various user needs, as low as 30 cents per user per month!
Get 50% off all printed materials inside of Digital Access.